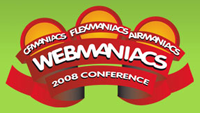 It seems that 2008 will bring a lot traveling for us. First, I will present a session at cf.Objective() in early May and then I will present at WebManiacs towards the end of May. We also hope to attend 360 Flex in Atlanta and most likely 360 Flex in SoCal closer to home.
This will be our first time at cf.Objective(), but from what we have heard, it is the best conference for advanced ColdFusion topics. They have added a track for RIA development too, so I thought it was the perfect opportunity to give a session about our new Flex framework (Mate) to broaden the Flex framework horizon in front of such great audience.
It is also our first time at WebManiacs. The opposite has happened with this conference, since it used to be called "FlexManiacs", but now they have added a whole new conference for ColdFusion topics and added AIR sessions to the mix. I would actually recommend to attend to both (CFManiacs/AirManiacs and FlexManiacs/AirManiacs) with a great 5-day pass at a discounted price. 
Session information:
Using Mate, a tag-based event-driven Flex framework




Mate is a Flex framework that leverages the tag-based MXML language to provide an easy to read map that defines how your application handles its events. It solves the common problems developers encounter when creating Flex applications, from small to enterprise, such as retrieving data from external services and handling business logic.

In this session you will learn what Mate is, when to use it and how to use the debugging tools provided. This session will also cover best practices and real world examples. Although Mate can be used with any server side technology, emphasis will be placed on how to use Mate to communicate with a ColdFusion backend and LiveCycle data services.
I hope this gives you some curiosity about Mate. We'll be posting more information about it in the coming weeks, so stay tuned!